Rufus Edmisten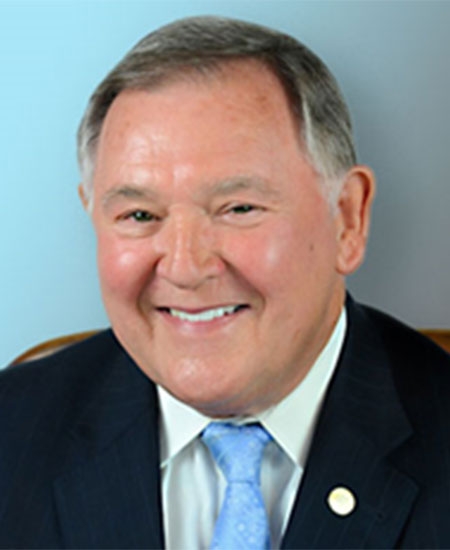 Rufus L. Edmisten, born on July 12, 1941, grew up on a farm in the mountains of Watauga County, near Boone, North Carolina.
After earning a Bachelor of Arts in Political Science at the University of North Carolina at Chapel Hill, Rufus completed his law degree (Doctor of Jurisprudence) at George Washington University Law School. While in law school Rufus first taught third grade at Ascension Academy in Virginia, and later joined Senator Sam J. Ervin, Jr.'s staff on the Senate Judiciary Subcommittee on Constitutional Rights. After earning his law degree in evening classes he became Chief Counsel of the Senate Subcommittee on the Separation of Powers.
Senator Ervin chaired the Senate Watergate Committee 1973-1974 and Rufus was appointed Deputy Chief Counsel on that committee. It was in this capacity that Rufus served a subpoena to President Richard Nixon—which was the first ever served a sitting President of the United States by a Congressional Committee.
Returning to North Carolina after Senator Ervin's retirement in 1974, Rufus was elected North Carolina Attorney General and held that position for ten years. As attorney general, he engaged in several successful legislative and legal efforts including an effective campaign to save the beautiful New River from damming and development. Edmisten also initiated legislation to secure victims' rights, to enhance historic preservation law, to reduce harsh penalties for simple possession of small amounts of marijuana and to improve educational and training requirements for North Carolina law enforcement officers.
After an unsuccessful campaign as the Democratic candidate for Governor of North Carolina in 1984, Rufus practiced law in Raleigh with Reagan Weaver. He entered public life again and in 1988 and 1992 won the office of North Carolina Secretary of State. In 1996 he launched a law practice in Raleigh that two years later came together with that of his former North Carolina Department of Justice colleague Woody Webb, a highly rated litigator.
Rufus is active in several charitable and philanthropic organizations. He created the Super Kids Foundation, a program that funds college educations for worthy high school students with financial need who have overcome significant adversity. He served on the boards of directors of Project Enlightenment and the Julia Crump Foundation, which also support children who need a helping hand. Together with former NC State University superstar basketball coach Jim Valvano and sportscaster Don Shea, Rufus created the Jim Valvano Kids Klassic golf tournament, which has raised millions toward seeking a cure for childhood cancer. Rufus has also served on the North Carolina State Capitol Foundation for 25 years and served as president for six.
Rufus is a regular panelist on NC Spin, the longest-running political talk show in North Carolina history. An avid gardener, more Saturday mornings than not Rufus is a panelist on the Weekend Gardener, a local North Carolina radio show that has aired for over 45 years.
Rufus lives with his wife Linda and their dog Jasper in a designated National Historic Register property in Raleigh, North Carolina. Their home is located on two and a half acres of lovely old original plantings including their beloved crepe myrtles and pecan trees.