Air history was made in Raleigh on January 7th
Published January 7, 2020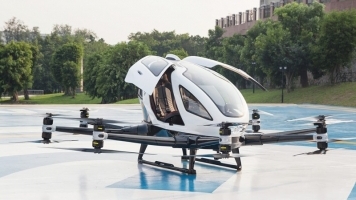 History was made today. A crowd of approximately 100 people watched the first autonomous air taxi demonstrated in North America. Co-founder Derrick Xiong, a 2013 Duke graduate, developed the ehang216 in his native China. The drone has 16 motors, each with 16 blades and can achieve speeds up to 40 mph.
In introducing the test flight Governor Roy Cooper told the crowd that North Carolina was widely acknowledged for being First in Flight with the Wright brothers, but they were witnessing a continuation of that legacy with the autonomous taxi.
Xiong told the crowd the cutting edge device is already being tested in several countries and experts predict it will become a $1.5 trillion industry by the year 2040. It will be used as a two-person taxi and also for delivery of documents, packages and other transportation needs.
The demonstration was an introduction to the 2020 NC Transportation Summit taking place in Raleigh January 8-9.